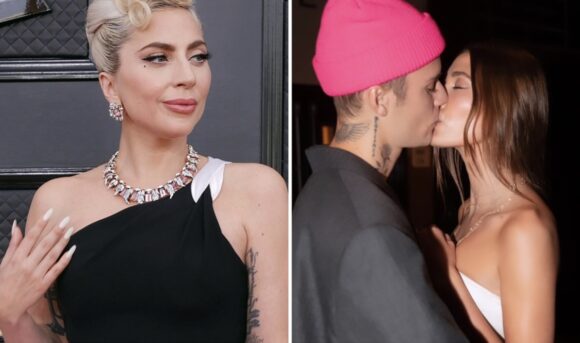 Con il previsto cambio di scenario, da Los Angeles.. teatro delle scorse edizioni.. a Las Vegas, che ha invece ospitato quella di quest'anno.. la cerimonia di consegna dei "Grammy Awards", di scena dal vivo la scorsa notte nel suo 64esimo appuntamento dall'"MGM Grand Garden Arena" della città del Nevada, ha visto mattatrice la coppia composta dalla cantante Lady Gaga e dal collega con lei salito sul palco, Tony Bennett, con cui la bionda popstar.. in passerella con abito nero di Armani Privè e preziosa parure di Tiffany, ritratta negli scatti social condivisi dalla nota casa di gioielli anche con l'altro look sfoggiato per la performance "live".. ha cantato "Love for Sale", che ha strappato l'ambito grammofono d'oro per il "best traditional pop vocal album".

On stage è, poi, salito anche Justin Bieber.. ascoltato, in Balenciaga, sulle note di "Peaches".. accompagnato sul tappeto rosso dell'evento dalla moglie Hailey, al suo fianco in white dress di YSL, che ha posato labbra a labbra con lui nel dolce bacio ritratto via "Stories".. mentre un'altra coppia vista sfilare davanti ai flash dei fotografi, John Legend e la moglie Chrissy Teigen, ha voluto portare con sè alla serata i figli, Luna e Miles, in posa con i genitori negli scatti diffusi in rete.
E se, nelle categorie principali di "record of the year" e "song of the year" si sono imposti i "Silk Sonic".. ovvero il duo formato da Bruno Mars ed Anderson .Paak, che ha avuto la meglio anche con la "best r&b performance".. è donna la voce rivelazione dell'anno, Olivia Rodrigo, premiata anche per la "best pop solo performance" con il brano "Drivers License".. ed il "best pop vocal album", "Sour". Nella categoria "rock", con tre successi ottenuti dalla band come "best rock performance", "best rock album" e "best rock song".. ha avuto tributo postumo, a pochi giorni dalla recente scomparsa, il batterista Taylor Hawkins, membro dei "Foo Fighters".. ma anche "The Weeknd", dopo la cocente esclusione dello scorso anno (QUI il vecchio post), ha ottenuto parziale riscatto con la vittoria per la "best melodic/rap performance".
Tra le presenti al gala musicale anche.. Dua Lipa in Versace.. l'attrice Rachel Zegler, vestita Dior.. Elettra Lamborghini, lì di supporto per la nomination "dance" al marito (QUI) Afrojack.. e l'ereditiera Paris Hilton, scintillante in Atelier Zuhra, accompagnata alla celebrazione mondana dal marito (QUI) Carter Reum.

Ecco di seguito il lungo elenco con la maggior parte dei premiati, categoria per categoria:
GENERAL
Record Of The Year
"I Still Have Faith in You" — "ABBA"
"Leave the Door Open" — "Silk Sonic" -WINNER
"Freedom" — Jon Batiste
"I Get a Kick Out of You" — Tony Bennett & Lady Gaga
"Peaches" — Justin Bieber, Daniel Cesar, Giveon
"Right on Time" — Brandi Carlile
"Kiss Me More" — Doja Cat, SZA
"Happier Than Ever" — Billie Eilish

Album Of The Year
"We Are" — Jon Batiste -WINNER
"Love for Sale" — Tony Bennett and Lady Gaga
"Justice (Triple Chucks Deluxe)" — Justin Bieber
"Planet Her (Deluxe)" — Doja Cat
"Happier Than Ever" — Billie Eilish
"Back of My Mind" — "H.E.R."
"Montero" — Lil Nas X
"Evermore" — Taylor Swift

Song Of The Year
"Bad Habits"
"A Beautiful Noise"
"Drivers License"
"Leave the Door Open" — "Silk Sonic" -WINNER
"Fight for You"
"Happier Than Ever"
"Kiss Me More"
"Peaches"
Best New Artist
Finneas
The Kid Laroi
  Olivia Rodrigo -WINNER
Saweetie


POP
Best Pop Solo Performance
"Positions" — Ariana Grande
"Drivers License" — Olivia Rodrigo -WINNER
"Anyone" — Justin Bieber
"Happier Than Ever" — Billie Eilish
"Right on Time" — Brandi Carlile

Best Pop Duo/Group Performance
"Kiss Me More" — Doja Cat,SZA  -WINNER
"I Get a Kick Out of You" — Tony Bennett, Lady Gaga
"Lonely" — Justin Bieber, Benny Blanco
"Butter" — "BTS"
"Higher Power" — "Coldplay"

Best Traditional Pop Vocal Album
"A Tori Kelly Christmas" — Tori Kelly
"'Til We Meet Again (Live)" — Norah Jones
"Love for Sale" — Tony Bennett, Lady Gaga  -WINNER
"A Holly Dolly Christmas" — Dolly Parton

Best Pop Vocal Album
"Justice (Triple Chucks Deluxe)" — Justin Bieber
"Sour" — Olivia Rodrigo -WINNER
"Positions" — Ariana Grande
"Planet Her (Deluxe)" — Doja Cat
"Happier Than Ever" — Billie Eilish

DANCE
Best Dance/Electronic Album
"Black Coffee" — "Subconsciously" -WINNER
"Music Is the Weapon (Reloaded)" — Major Lazer
"Shockwave" — Marshmello
Best Dance Recording
"Hero" — Afrojack & David Guetta
"Alive" — Rufus du Sol -WINNER
ROCK
Best Rock Performance
"Making a Fire" — "Foo Fighters"  -WINNER
"Shot in the Dark" — "AC/DC"

Best Rock Album
"Power Up″ — "AC/DC"
"McCartney III" — Paul McCartney
"Medicine at Midnight" — "Foo Fighters"  -WINNER
Best Rock Song
"Find My Way" — Paul McCartney
"Waiting on a War" — "Foo Fighters" -WINNER


ALTERNATIVE
Best Alternative Music Album
"If I Can't Have Love, I Want Power" — Halsey
"Daddy's Home" — St. Vincent -WINNER
R&B
Best R&B Performance
"Peaches" — Justin Bieber, Daniel Cesar, Giveon
"Damage" — "H.E.R."
"Leave the Door Open" — "Silk Sonic"  -WINNER
Best R&B Album
"We Are" — Jon Batiste
"Heaux Tales" — Jazmine Sullivan -WINNER
"Back of My Mind" — "H.E.R."


Best Traditional R&B Performance
"I Need You" — Jon Batiste
"Fight for You" — "H.E.R." -WINNER
RAP
Best Rap Performance
"Thot Shit" — Megan Thee Stallion
"Way Too Sexy" — Drake, Future, Young Thug
"Family Ties" — Baby Keem, Kendrick Lamar -WINNER
"Up" — Cardi B

Best Melodic/Rap Performance
"Pride Is the Devil" — J. Cole, Lil Baby
"Need to Know" — Doja Cat
"Hurricane" — Kanye West, "The Weeknd", Lil Baby  -WINNER

Best Rap Album
"The Off-Season" — J. Cole
"Donda" — Kanye West
"Call Me If You Get Lost″ — Tyler, The Creator -WINNER
"Certified Lover Boy" — Drake

Best Rap Song
"Family Ties" — Baby Keem, Kendrick Lamar
"Jail" — Kanye West, Jay-Z  -WINNER
COUNTRY MUSIC
Best Country Solo Performance
"Forever After All" — Luke Combs
"Camera Roll" — Kacey Musgraves
"You Should Probably Leave" — Chris Stapleton -WINNER
Best Country Album
"The Marfa Tapes" — Miranda Lambert, Jon Randall, Jack Ingram
"Starting Over" — Chris Stapleton -WINNER
Best Country Duo/Group Performance
"Younger Me" — "Brothers Osborne" -WINNER
"If I Didn't Love You" — Carrie Underwood, Jason Aldean
"Glad You Exist" — "Dan+Shay"
Best Country Song (A Songwriters Award)
"Camera Roll" — Kacey Musgraves
"Country Again" — Thomas Rhett
"Better Than We Found It" — Maren Morris
"Cold" — "Chris Stapleton"  -WINNER
LATIN
Best Latin Pop Album
"Revelaciòn" — Selena Gomez
"Mendò" — Alex Cuba  -WINNER


MUSICAL THEATER
Best Musical Theater Album
"The Unofficial Bridgerton Musical"  -WINNER
"Andrew Lloyd Webber's Cinderella"
"Burt Bacharach and Steven Sater's Some Lovers"
"Girl from the North Country"
"Les Miserables: The Staged Concert (The Sensational 2020 Live Recording)"

MUSIC FOR VISUAL MEDIA
Best Compilation Soundtrack For Visual Media
"Respect"
"One Night in Miami.."
"Cruella"
"In The Heights"
"The United States vs. Billie Holiday" -WINNER
Best Score Soundtrack For Visual Media
"Bridgerton"
"The Mandalorian"
  "Dune"
  "The Queen's Gambit" -WINNER
"Soul"  -WINNER
Best Song Written For Visual Media
"Speak Now" — Leslie Odom, Jr
"Here I Am" — Jennifer Hudson
"All Eyes on Me"  – Bo Burnham  -WINNER
"All I Know So Far" – P!nk
"Fight For You" – "H.E.R."

Best Music Film
"Summer of Soul" — Various Artists – WINNER
"Happier Than Ever ( A Love Letter to Los Angeles)" — Billie Eilish
  "Inside" — Bo Burnham
Best Music Video
  "I Get a Kick Out of You"— Tony Bennett, Lady Gaga
"Shot in the Dark" — "AC/DC"
  "Happier Than Ever" — Billie Eilish
  "Freedom" — Jon Batiste – WINNER
"Peaches" — Justin Bieber, Daniel cesar