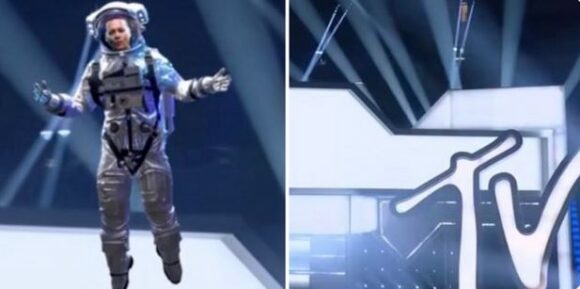 Di nuovo portata a termine nella notte dal New Jersey, la rinnovata serata di consegna degli "MTV VMA (Video Music Awards)", arricchita in quest'edizione 2022 dalle presenze dal vivo a sorpresa di Fergie.. apparsa per un'esibizione in duetto.. ed i "Red Hot Chili Peppers", destinatari de
l riconoscimento più prestigioso come "Global Icons"..

ha visto ieri trionfare nelle due categorie principali di.. "Video of the Year" e "Best Direction".. la solita Taylor Swift per
"All Too Well: The Short Film",
che dal palco.. dopo il tappeto rosso in luccicante abito di

Oscar De la Renta

.. ha con l'occasione annunciato l'imminente uscita autunnale del suo nuovo album, "Midnights".
A Nicki Minaj è, invece, andato il "Video Vanguard Award" intitolato a Michael Jackson.. la canzone di Billie Eilish, "Happier Than Ever", è stata incoronata "Song of the Year".. ed il titolo di
"Best Alternative"
ha dato soddisfazione ai
"Maneskin", premiati per il video di "I Wanna Be Your Slave", che con il chiacchierato outfit del loro frontman.. aperto sul lato B, in mise di

Gucci

.. hanno catturato l'attenzione, al di là della conquistata vittoria musicale. Ma un'ulteriore, sovrastante, presenza.. in grigia tuta lunare.. si è rivelata dai social dopo l'apparizione pare solo sullo schermo dell'evento in scena per i "big" della musica: l'attore Johnny Depp ha condiviso il breve video del suo fluttuare a ridosso del logo della cerimonia, con la nota inserita a margine.. "guess who?" (in italiano tradotta, "indovinate di chi si tratta?").

Di seguito anche i nomi degli altri premiati, categoria per categoria:
VIDEO OF THE YEAR
Harry Styles – "As It Was"
Drake ft. Future & Young Thug – "Way 2 Sexy"
Lil Nas X, Jack Harlow  – "Industry Baby"
  Ed Sheeran – "Shivers"
Doja Cat – "Woman"
Taylor Swift– "All Too Well (10 Minute Version)" (WINNER)
ARTIST OF THE YEAR
Bad Bunny – (WINNER)
Jack Harlow
Drake
 Harry Styles
Lizzo
Ed Sheeran
 
BEST POP VIDEO
Harry Styles – "As It Was" (WINNER)
Olivia Rodrigo – "Traitor"
Lizzo – "About Damn Time"
Billie Eilish – "Happier Than Ever"
Doja Cat – "Woman"
Ed Sheeran – "Shivers"

BEST HIP HOP VIDEO
Nicki Minaj ft. Lil Baby  – "Do We Have A Problem?" (WINNER)
Eminem & Snoop Dog – "From The D 2 The LBC"
Future ft. Drake, Tems – "Wait For U"
Kendrick Lamar – "N95"
Pusha T – "Diet Coke"

BEST ROCK VIDEO
"Red Hot Chili Peppers" – "Black Summer" (WINNER)
"Muse" – "Won't Stand Down"
"Foo Fighters" – "Love Dies Young"

BEST ALTERNATIVE VIDEO
"Panic! At The Disco" – "Viva Las Vengeance"
WILLOW, Avril Lavigne ft. Travis Barker – "G R O W"
"Maneskin" – "I Wanna Be Your Slave" (WINNER)
"Twenty One Pilots" – "Saturday"
Machine Gun Kelly ft. WILLOW  – "Emo Girl"
"Imagine Dragons" x JID – "Enemy"
BEST NEW ARTIST
"Maneskin"
Dove Cameron (WINNER)
VIDEO FOR GOOD
Lizzo – "About Damn Time" (WINNER)
Stromae – "Fils the Joie"
  Kendrick Lamar – "The Heart Part 5"
BEST CHOREOGRAPHY
Doja Cat – "Woman" (WINNER)
FKA twigs ft. "The Weeknd" – "Tears in the Club"
Lil Nas X, Jack Harlow – "Industry Baby"
"BTS" – "Permission to Dance"
Normani ft. Cardi B – "Wild Side"
Harry Styles – "As It Was"
BEST EDITING
ROSALIA  – "SAOKO" (WINNER)
Doja Cat – "Get Into It (Yuh)"
Taylor Swift – "All Too Well"
"The Weeknd" – "Take My Breath"
Baby Keem & Kendrick Lamar – "Family Ties"
Olivia Rodrigo – "Brutal"
BEST DIRECTION
Taylor Swift – "All Too Well (10 Minute Version)" (WINNER)
Billie Eilish  – "Happier Than Ever"
Lil Nas X, Jack Harlow – "Industry Baby"
Harry Styles – "As It Was"
Ed Sheeran  – "Shivers"
Baby Keem & Kendrick Lamar – "Family Ties"
BEST ART DIRECTION
Adele – "Oh My God"
Lil Nas X, Jack Harlow – "Industry Baby" (WINNER)
Doja Cat – "Get Into It"
Megan Thee Stallion ft. Dua Lipa – "Sweetest Pie"
BEST VISUAL EFFECTS
Billie Eilish – "Happier Than Ever"
Lil Nas X, Jack Harlow – "Industry Baby" (WINNER)
"Coldplay" x "BTS" – "My Universe"
The Kid LAROI & Justin Bieber – "Stay"
Kendrick Lamar – "The Heart Part 5"
Megan Thee Stallion & Dua Lipa – "Sweetest Pie"
SONG OF THE YEAR
  Billie Eilish – "Happier Than Ever" (WINNER)
Adele – "Easy On Me"
Elton John & Dua Lipa – "Cold Heart"
Lizzo – "About Damn Time"
The Kid LAROI & Justin Bieber – "STAY"
Doja Cat – "Woman"