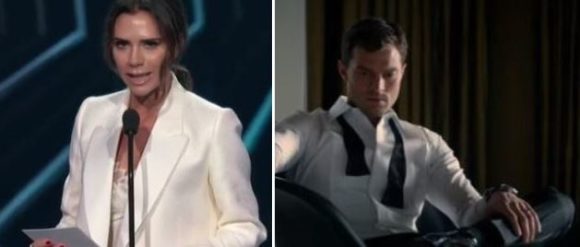 Si è tenuta nella notte, in una California devastata dal recente grosso incendio che ha reso inevitabile la menzione ed il ringraziamento per lo sforzo dei volontari impegnati nelle azioni di soccorso, l'edizione 2018 dei "People's Choice Awards".. ovvero i premi che ogni anno vengono assegnati ai protagonisti di cinema, tv e musica.. e anche quest'anno ha incoronato i preferiti del pubblico americano.
Dalla cornice del "Barker Hangar" si sono esibiti.. John Legend, sulle note di
"Pride (In the Name of Love)" degli "U2".. e Rita Ora, che ha cantato la sua "Let You Love Me".. mentre due premi speciali.. l'"Icon Award" ed il "Fashion Icon Award" sono stati assegnati, rispettivamente, all'attrice ed icona comica Melissa McCarthy, che ha vinto anche come "favorite comedic movie star".. e alla stilista ed ex popstar inglese Victoria Beckham, salita sul palco per ritirare l'importante riconoscimento nel campo della moda.
Per il cinema, hanno vinto come "miglior film drammatico" e miglior attore drammatico", l'attore Jamie Dornan e l'ultimo capitolo della saga "Fifty Shades", "Cinquanta Sfumature di Rosso".. ma anche gli "Incredibili 2" e l'attrice Scarlett Johansson.. per la tv, la serie "Shadowhunters", l'attrice Mariska Hargitay amata protagonista di "Law & Order: Special Victims Unit", Ellen DeGeneres con il suo "The Ellen Show", lo show "The Voice" ed il reality delle Kardashians..
Infine, sul fronte musicale, hanno trionfato.. Blake Shelton, Shawn Mendes e Nicki Minaj.. come "miglior artista country" e, rispettivamente, miglior artista maschile e femminile.. e Taylor Swift con il suo "Reputation Stadium Tour".
Ecco, di seguito, l'elenco con buona parte dei premiati per ognuna delle tre categorie principali:
MOVIES
Favorite Movie – "Black Panther", "Incredibles 2", "Avengers: Infinity War", "Fifty Shades Freed", "A Quiet Place"
Favorite Movie Actor

–

Chadwick Boseman, Chris Hemsworth, Chris Pratt, Robert Downey Jr, Nick Robinson

Favorite Movie Actress

–

Bryce Dallas Howard, Anne Hathaway, Lily James, Sandra Bullock,

Scarlett Johansson



  Favorite Action Movie – "Avengers: Infinity War", "Black Panther", "Deadpool 2", "Jurassic World: Falled Kingdom", "Ocean's 8"
  Favorite Action Movie Star – Chris Hemsworth, Ryan Reynolds, Chadwick Boseman, Danai Gurira, Chris Pratt

Favorite Comedic Movie – "Love, Simon", "The Spy Who Dumped Me", "Blockers", "Mamma Mia: Here We Go Again", "Crazy Rich Asians" 
Favorite Comedic Movie Star – Melissa McCarthy, John Cena, Nick Robinson, Amanda Seyfried, Mila Kunis

Favorite Dramatic Movie – "Fifty Shades Freed", "12 Strong", "Red Sparrow", "Midnight Sun", "A Quiet Place" 
Favorite Dramatic Movie Star – Emily Blunt, John Krasinski, Jennifer Lawrence, Jamie Dornan, Chris Hemsworth
Favorite Family Movie – "A Wrinkle in Time", "Incredibles 2", "Hotel Transylvania 3", "I Can Only Imagine", "Christopher Robin"

Favorite Icon
–
Melissa McCarthy
TV
Favorite TV Show – "This Is Us", "Shadowhunters: The Mortal Instruments", "Grey's Anatomy", "The Big Bang Theory", "13 Reasons Why" 
Favorite TV Comedy – "Orange Is The New Black", "The Good Place", "The Big Bang Theory",  "Modern Family", "Black-ish" 
Favorite Comedic TV Star –

Donald Glover

, Kristen Bell, Sofia Vergara, Jim Parsons, Drew Barrymore

Favorite TV Drama – "This Is Us", "Grey's Anatomy", "Riverdale", "13 Reasons Why", "The Handmaid's Tale"

Favorite Dramatic TV Star – Ellen Pompeo, KJ Apa, Darren Criss, Mariska Hargitay, Katherine Langford

Favorite Male TV Star – Justin Chambers, Harry Shum jr, Cole Sprouse, Andrew Lincoln, Freddie Highmore

Favorite Female TV Star –
Viola Davis
,
Camila Mendes, Ellen Pompeo, Mandy Moore,

Katherine McNamara
Favorite TV Sci-Fi/Fantasy Show –
"Wynonna Earp
"

, "Supernatural", "The Originals", "Shadowhunters: The Mortal Instruments", "The Expanse"
Favorite Daytime Talk Show –

"The Real",  "Steve", "Red Table Talk with Jada Pinkett Smith", "The Ellen DeGeneres Show", "Live with Kelly and Ryan"
Favorite Late Night Talk Show – "The Daily Show with Trevor Noah", "The Late Late Show with James Corden", "The Tonight Show Starring Jimmy Fallon", "Jimmy Kimmel Live!", "Watch What Happens Live with Andy Cohen"

Favorite Competition TV Show – "The Voice", "America's Got Talent", "Ellen's Game of Games", "Big Brother", "RuPaul's Drag Race"
Favorite Reality Show – "Jersey Shore: Family Vacation", "Queer Eye", "Keeping Up with the Kardashians", "Chrisley Knows Best", "Vanderpump Rules"
Favorite Revival Show-
"Dynasty"

, "American Idol", "Queer Eye", "Jersey Shore: Family Vacation", "One Day At A Time"

MUSIC
Favorite Male Artist – Ed Sheeran, Bruno Mars, Keith Urban, Shawn Mendes, Drake
Favorite Female Artist –

Taylor Swift

, Cardi B, Camila Cabello, Ariana Grande, Nicki Minaj

Favorite Music Video – "BTS", "Idol" – Selena Gomez, "Back to You" – Ariana Grande, "No Tears Left to Cry"– Childish Gambino, "This Is America" – Camila Cabello, "Never Be The Same" 
Favorite Concert Tour – Taylor Swift, Katy Perry, Super Junior, Britney Spears, Beyoncè & Jay-Z

Favorite Country Artist – Thomas Rhett, Carrie Underwood, Blake Shelton, Luke Bryan, Keith Urban

Favorite Group – "Super Junior", "5 Seconds of Summer", "BTS", "Panic! at the Disco", "Twenty One Pilots"
Favorite Song – "Idol" by "BTS",  "I Like It" by Cardi B, Bad Bunny & J Balvin, "No Tears Left To Cry" by Ariana Grande, "In My Blood" by Shawn Mendes, "Back to You" by Selena Gomez

Favorite Album – "Shawn Mendes" by Shawn Mendes, "Camila" by Camila Cabello, "Invasion of Privacy" by Cardi B, "Sweetener" by Ariana Grande, "Queen" by

Nicki Minaj



 Favorite Social Media Celebrity –
"BTS"
Sul tappeto rosso si sono visti.. la stessa Ora in Atelier Versace.. e l'attrice Johansson a sua volta in Versace, Mila Kunis in Alex Perry, Busy Philipps in Christian Siriano, Kim Kardashian in Jean Paul Gaultier, la madre Kris Jenner e le sorelle di Kim.. Khloe Kardashian, Kourtney Kardashian e Kendall Jenner, Chrissy Teigen in Zuhair Murad e la coppia Blake Shelton e Gwen Stefani..